The sparkling blue topaz is the birthstone for those born in the month of December.  Considered a symbol of love and affection, the semi-precious gemstone generally has three different shades. Pale Sky, Swiss Blue and London Blue are classifications of the various hues of this sought after gemstone. It is believed that all of these shades can manifest calm and quiet.
Blue Topaz Jewelry can evoke images of limitless skies, soothing waters, and sweeping winds. This complex blue gemstone is thought to bring the wearer a sense of peaceful tranquility. As the wearer gazes at the gemstone, she can see her worries sweep away in the wind, drift off into distant waters and float away into the clouds.
Jewelry crafted with this versatile stone makes a beautiful gift for many people. While perfect for those born in December, blue topaz jewelry is appropriate for fourth and nineteenth anniversaries. For long-term relationships and loyal friendships, a gift of earrings, rings or a necklace would be a lovely gesture.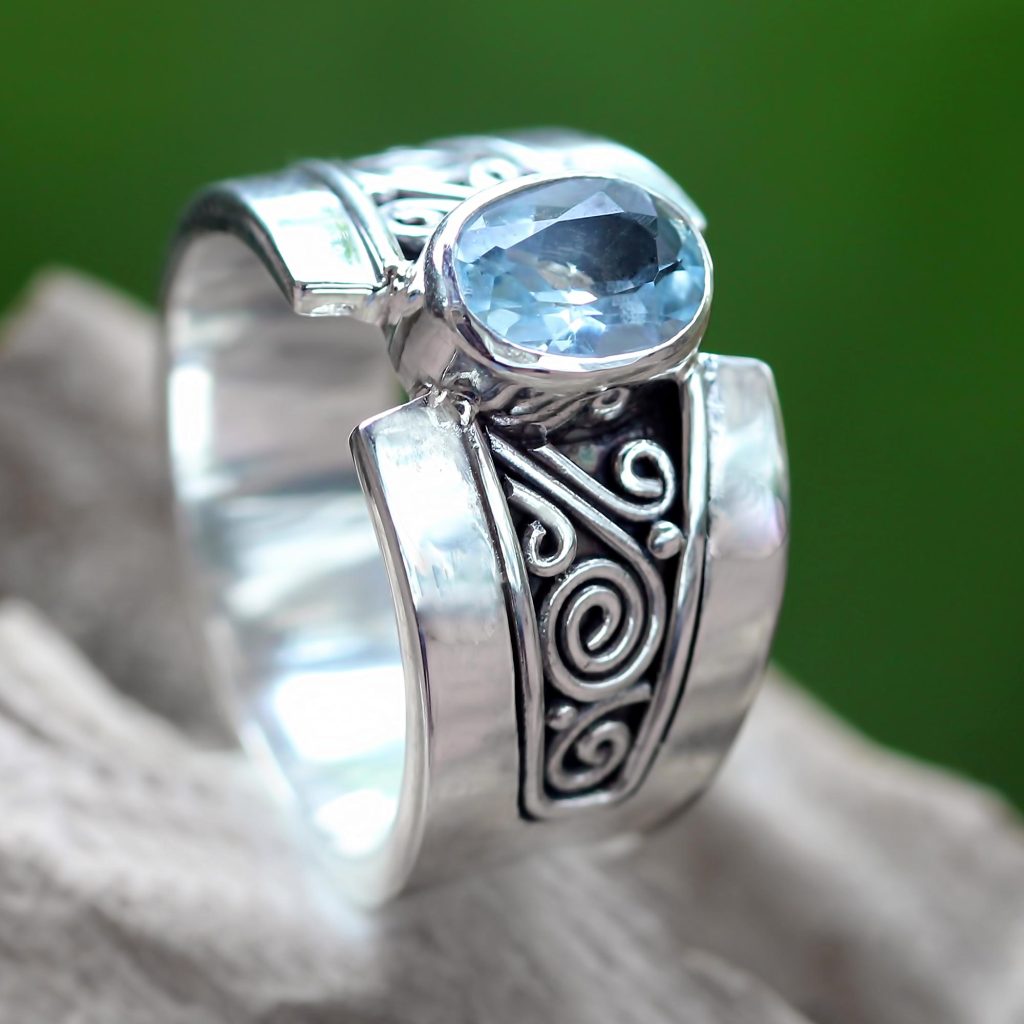 Many jewelry artisans incorporate the water and sky theme into their artwork. For example, the lovely hand crafted sterling silver wide ring with blue topaz. "Blue Karma" looks as if it is emerging from the waves. The delicate swirling design around the gemstone suggests calming waters. The ring works both for everyday wear or for a special occasion.
For a more sophisticated look, the handcrafted Blue Topaz silver bracelet from Bali 'Jungle Lagoon' offers an intricate design. The bracelet incorporates several leaves and waves for an organic look. Like many of the blue topaz jewelry designs, this bracelet combines the water elements into the setting of the gemstone. Whether dreaming of a tranquil, secluded lagoon or roaring ocean waves, this blue topaz bracelet could easily become a favorite piece.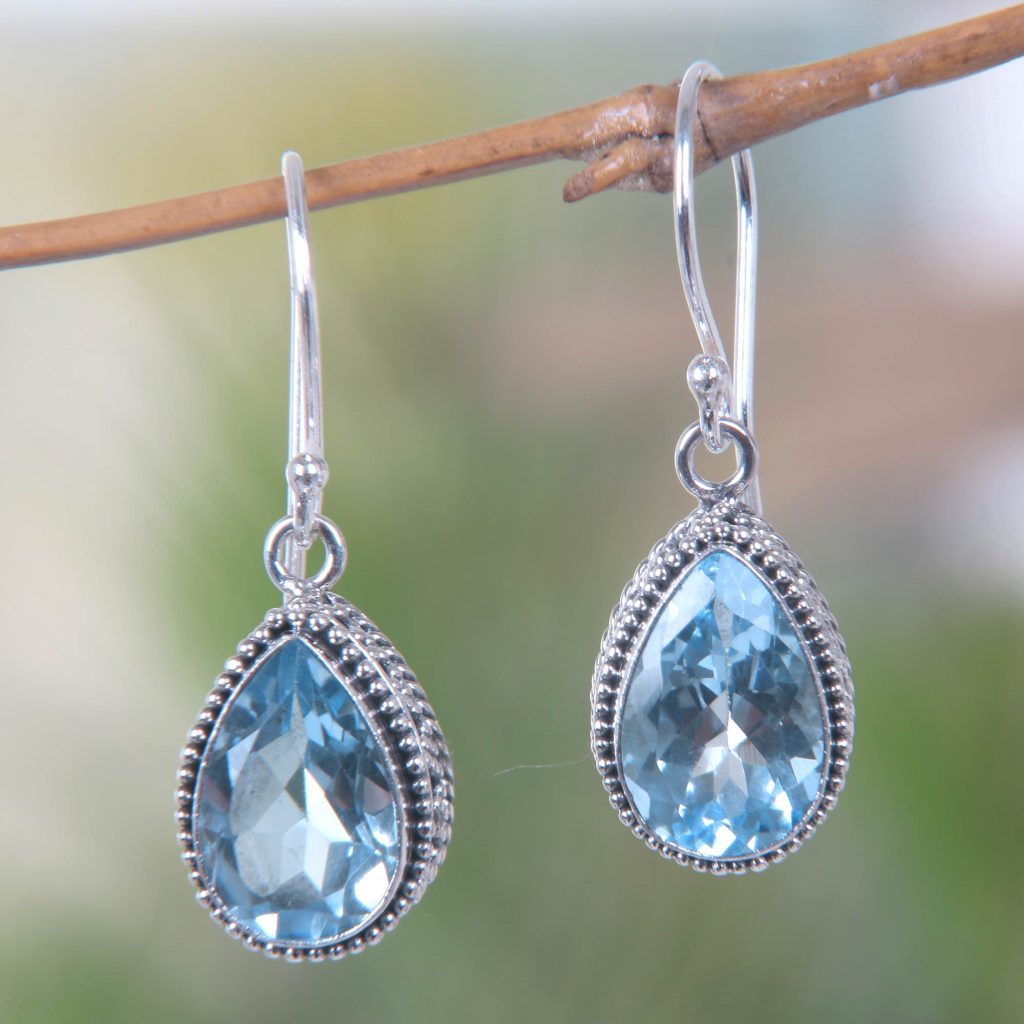 One of the easiest ways to add blue topaz jewelry to everyday wear is with earrings. A simple pair of blue topaz earrings can be worn with a casual pair of jeans, sophisticated work ensemble or even dressed up for a night out. The Handcrafted blue topaz silver earrings, 'Sparkling Dew'are timeless elegance.  A subtle blue, these earrings can be worn with a variety of skin tones. Worn with your hair down or up in an elaborate coiffure, the drop earrings are a bright accent. They make a great gift or a "just because" purchase for yourself.
Blue topaz pairs well with other gemstones, as shown in this stunning necklace adorned with a pearl centerpiece.  The floral theme and intricately worked silver are a breathtaking combination.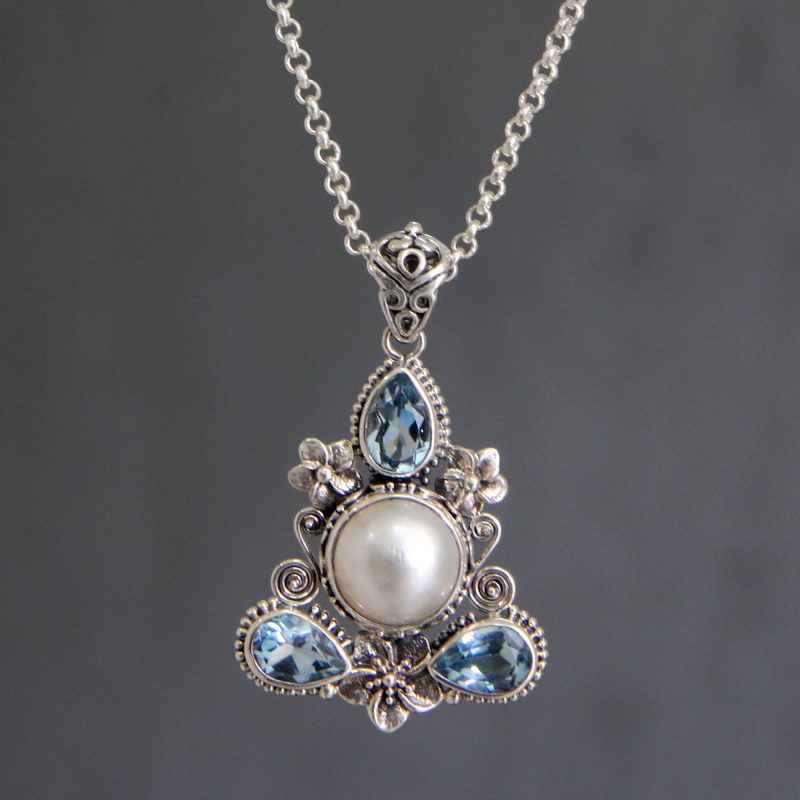 When considering a new piece of jewelry, blue topaz pieces can add style, elegance, and sophistication to anyone's collection.  Whether seeking calm, searching for love, or dreaming of water, blue topaz jewelry can evoke the clarity that you seek.
 If you need help picking a design we are always available! Email us at sk9669@hotmail.com for all requests and inquiries and we are happy to serve you the best